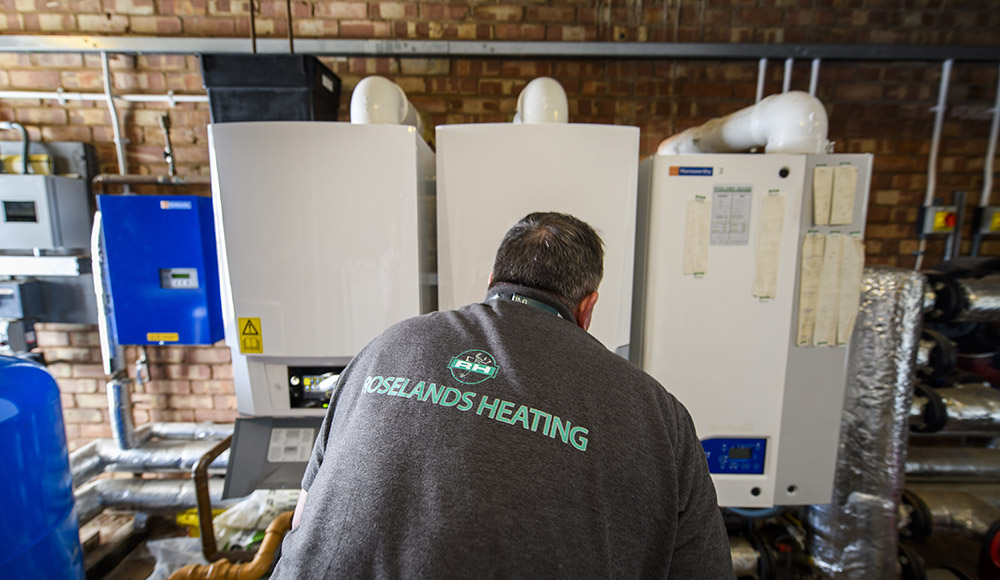 Our knowledgeable and experienced team of commercial gas engineers is familiar with a wide range of heating options, allowing us to find and implement the correct solution for your requirements. Roselands Heating is fully accredited – our engineers are Gas Safe and OFTEC registered, giving you peace of mind that all our work will be completed safely and professionally.
What types of heating system can we work on?

Gas fired heating
We have extensive experience working with traditional gas-fired boilers of all sizes and are familiar with models produced by all major manufacturers. We aren't associated with any specific manufacturer and this allows us to recommend the right boiler for your requirements, not just the one we're familiar with. As a company, Roselands Heating was an early adopter of the Gas Safe registration scheme – our registration number is 106, demonstrating our proactive approach to safety.

Oil boilers
Our heating engineers are also OFTEC registered, allowing them to work on oil-fired boilers. An oil-fired boiler is an ideal option for businesses that aren't connected to the gas network such as rural schools and heritage sites. Many firms lack the experience and accreditations needed to work on these boilers; however, we believe that it's important to maintain this skillset so that owners of oil-fired boilers have access to high-quality services.

Space heating
Space heating is an ideal option for large areas such as warehouses and garden centres that have specific heating requirements. The large volume of air in these settings would be inefficient to heat consistently, particularly as this is rarely necessary. Instead, our experienced team can design a tailored space heating system to target just the areas that need to be heated.

LPG boilers
LPG boilers provide a modern alternative to oil-fired boilers. They are more efficient, less expensive to operate, more compact, and are available with a wide range of options – all qualities which make them an ideal upgrade or replacement for an oil boiler. They still involve a fossil fuel source but produce cleaner emissions, making them a worthwhile investment for customers who can't find a renewable alternative that meets their requirements.

Underfloor heating
Underfloor systems provide a consistent heating effect across a large floor surface. This has a number of advantages; the temperature within the room is easier to maintain, the system heats more efficiently, and the lack of radiators frees up wall space. The result is a modern, aesthetically pleasing space that is easier to manoeuvre around. It's the perfect solution for small workplaces where space is at a premium, and for healthcare environments.

High efficiency gas fired radiant tube heating
Radiant tube heating is hugely effective at a short range, making it ideally suited to warehouses or large buildings where it would make little sense to attempt to heat the entire space. Instead, a carefully designed radiant tube heating system can be used to create a comfortable working temperature, meeting staff requirements and avoiding the need to heat large volumes of air inefficiently.

Heat pump systems
Air and ground source heating systems provide a modern and efficient solution for businesses that want to embrace renewable technology. Roselands Heating has the knowledge and experience to carefully design, install, and maintain these systems, allowing our customers to benefit from lower running and maintenance costs and providing a reliable long-term solution to their heating needs.

Warm air heating
Another option that is ideally suited to warehouses or other large industrial buildings, warm air systems can heat big spaces quickly and efficiently. Our team has considerable experience working with these systems and will be able to provide a solution that is tailored to the needs of your business and employees. In particular, attention needs to be paid to the direction of the streams of air produced by warm air heating – if these aren't accounted for, they can end up disturbing paperwork or other aspects of the workplace.